We Are The First Choice For Carpet Cleaning
Are you ready for the ultimate carpet cleaning experience?

There are many carpet cleaners out there that offer carpet cleaning but do they offer you the complete experience? Here is what you will get from Best Carpet Cleaning Experts. I can assure you that it is beyond what you can get from any of the competition in San Antonio. We treat you right from start to finish so you end up with great looking carpets for a very fair price.
Our 8 step carpet cleaning process:
1. We always start with a pre-inspection
So that we and the customer knows what to expect. Our carpet cleaning technicians are well trained so they can give you a great estimate based on the square footage of the home or business. They can also take a look at the level of dirt in the carpets and any stains that will require special attention. You will get an estimate up front of what the cost will be before anything is done and a fair price for carpet cleaning, thats why our carpet cleaning company is best.
2. Pre-condition and pre-spot treatment
Our carpet cleaners will carefully condition and pre-spot the areas of your carpets that may prove to be harder to clean. These are fast acting products that help to break up the soil and dirt so that we can remove it for you.
3. Pre-groom
We will use a carpet groomer to help remove soil in those areas where you experience heavier traffic.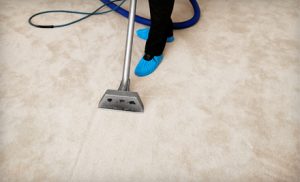 4. Extracting and Rinsing
We use the best technology has to offer with great equipment. We can remove all of the dirt and debris with ease. Hot water is used to rinse the carpets to make sure all of the residue is removed as well. The water is very hot too which is going to remove a variety of known allergens from your carpet as well.
5. Neutralize
Next we will neutralize your carpets with a carefully PH balanced product. This won't be sticky at all. This is one of the steps I am the most proud of because it definitely sets us apart from other carpet cleaning companies out there.
6. Post Spot Treatment
After we are done, one of the technicians will inspect the work that has been done. If there are spots that didn't come out they will use a variety of other techniques to get them removed. I would like to point out that if the technician shows you any permanent stains that we can't remove during the initial inspection then they will remain at this point too without any thing else we can do.
7. Carpet protection is applied (Highly Recommended)
If requested by you, Our carpet steam cleaners will protect your carpets with a state of the art carpet protection system safe for you and your family so it will be easier for you to keep your carpet clean.
8. Final Inspection
Since we don't feel that our job is done until you are 100% satisfied with it, we want you to take part in the final inspection. We will offer you plastic booties to walk freely on the carpets. If you find anything that you aren't happy with please let us know and we will correct it right then and there. If you are satisfied with all of our hard work, then you will be asked to sign off on the invoice for the technician.
Best Carpet Cleaning Experts has the experience needed to clean your carpets professionally in your entire home. Our professional carpet cleaners are experienced in all types of carpet stains and pet odors.
Call Us today, Best Carpet Cleaning Experts at (210)857-0682 or Schedule your cleaning today and have our carpet cleaning, tile cleaning and upholstery cleaning experts take care of all your carpet cleaning and tile cleaning needs. Our company guarantees you will have the best carpet cleaning in San Antonio, TX.